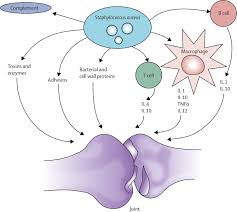 Arthritis
is a term often used to mean any disorder that affects joints. Symptoms generally include joint pain and stiffness .Other symptoms may include redness,
warmth
, swelling, and decreased range of motion of the affected joints. In some types other organs are also affected. Onset can be gradual or sudden. It includes Psoriatic arthritis , is a chronic disease characterized by inflammation of the skin (psoriasis) and joints (arthritis).And Rheumatoid Arthritis (RA) is mainly characterized by
inflammation
of the lining, or synovia, of the joints. It can lead to long-term joint damage, resulting in chronic pain, loss of function and disability. Other arthritis involves-
Osteoarthritis,
Rheumatoid Arthritis
,
Osteoporosis
,
Lyme Disease
Infectiousarthritis
, this general term is used to classify forms of arthritis that develop as a result of an infection. Parvovirus arthritis and Lyme disease are examples of types of arthritis that occur as a result of either a bacterial
or viral infection. Early detection is the key to minimizing potential joint
damage.